April 16th, 2010
The oceanographic buoy has been deployed again after repairing and it is now operational!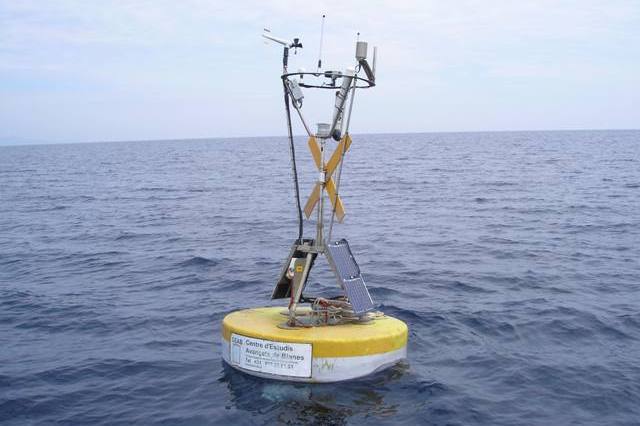 Last 15th of April, the oceanographic buoy of the CEAB-CSIC was deployed back in the Catalan Sea after repairing and it is now fully operational with all instrumentation on board!
The unfortunate incidence that took place a month ago made the mast of the buoy to break and also broke some meteorological instrumentation attached to the mast.
Therefore, the buoy was taken out of water for reparing. The mast was reinforced. The humidity and temperature sensors as well as the two GSM antennas were replaced by new ones. One of the two anemometers was repaired and the second was not longer installed. All electronic cables connecting the instrumentation in the mast with the datalogger were completely renovated. A solar panel was also replaced by a new one.
Good weather and sea conditions of the last 15th of April allowed the buoy was trawled on board R/V "Dolores" from the Blanes harbor to the mooring place for deployment. All the operation was successful: the buoy marker left for a month at the mooring place was replaced by the oceanographic buoy.
The buoy is now operational back with full meterological and oceanographic instrumentation on board and transmitting Ok!
We want to thank all the people involved in repairing and deployment the buoy (see picture below of the A-team!)
Have a look to the buoy data published on a daily basis!
Laura's horizon:

Where is the buoy marker?

The buoy recently deployed

Checking data transmission from the buoy.

On board R/V "Dolores", from left to right: Eduardo Muñoz, Ferran Crespo, Didac Catalan, Nixon Bahamon and Laura Navarro. Not in the picture: Antonio Cruzado.

The A-team!

Skipper of the R/V "Dolores" showing a recently acquired security equipment (see the label of the life-jacket!)